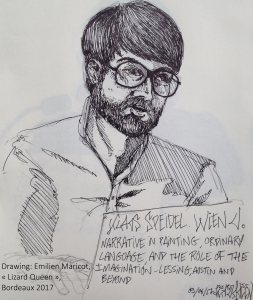 The FWF Lise Meitner Project "Towards an experimental narratology of the image" was developed and directed by Klaus Speidel from October 2015 to January 2018 at the Lab for Cognitive research in Art-History (CReA) at the University of Vienna.
Klaus Speidel studied philosophy and art history in Munich (LMU) and Paris (Ecole normale supérieure, Paris I Sorbonne). Since 2003, he mainly focuses on the theory of art and images. His work on pictures draws on sources from philosophy, art-history and narratology. In 2013, he was awarded his full honors PhD in philosophy from Paris IV Sorbonne by an interdisciplinary jury with a work on the possibility and modality of pictorial narrative in the single image.
Klaus held short- and long-term teaching positions at Vienna University, Paris VII Diderot, Paris IV Sorbonne, Sciences Po Poitiers, Ecole Estienne Paris, Strate. Ecole de Design Sèvres, IFM Paris, ICN Nancy, HDK Gothenburg, Universität Konstanz and EDHEC Lille.
Beyond his academic publications, Klaus also writes art criticism in French, German or English for Spike and artpress and occasionally curates exhibitions, for instance "Drawing after Digital" at XPO Gallery and "Useful Abstractions" at the Canadian Cultural Center in Paris. In 2015, he was awarded the AICA France prize for art-criticism. He contributes to exhibition catalogues for public and private institutions such as the Centre Pompidou in Paris, the Schirn Kunsthalle in Frankfurt, the Museum of Modern art in Luxemburg (MUDAM) and in Vienna (mumok), the Dom Museum and the Belvedere in Vienna, as well as the FRAC Franche Comté and Le Musée du Temps in Besançon. In 2016, he co-authored the artist book "Sparkling Past" with Benjamin Hugard. It was published by RVB Press in Paris.